MEDIA RELEASE | May 3, 2012 – Eight of the forty three health workers, collectively known as the Morong 43, today filed a criminal case against Gloria Macapagal-Arroyo, Gen. Victor Ibrado, Gen. Delfin Bangit, Lt. Gen. Jorge Segovia, Col. Aurelio Baladad, Col. Cristobal Zaragosa  and 10 other officials of the AFP and the Philippine National Police (PNP) for violations of the Anti-Torture Act of 2009, Republic Act 7438 (Rights of Persons Arrested, Detained or under Custodial Investigation), and robbery.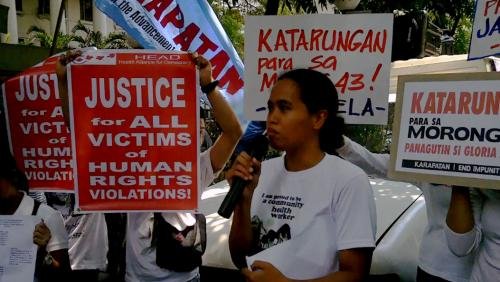 Cristina Palabay, Karapatan spokesperson and convenor of the End Impunity Alliance said that, "this is the first criminal case against Gloria Macapagal-Arroyo involving human rights violations under her watch, and on the basis of the anti-torture law that was passed during her regime."
Karapatan expressed support for the health workers for their continuing quest for justice, as the rights group also urged the Department of Justice and Malacanang "to act immediately on the said complaint to make human rights violators in government accountable for the rights they have wantonly violated."
"Pres. Noynoy Aquino said it himself, that the arrest and detention of the health workers are 'fruits of the poisonous tree.' It is however, lamentable that instead of immediately prosecuting those responsible for their illegal arrests and incarceration, the promotion of these military and police officers are being effected. It is déjà vu, similar to period of former Pres. Arroyo, when Maj. Gen. Jovito Palparan Jr. who, despite many cases filed against him, was heaped upon with promotions and accolades," Palabay said.
In a letter sent to the Commission on Appointments (CA), through its secretary Atty. Arturo Tiu, KARAPATAN and the Council for Health and Development (CHD) expressed their opposition to the confirmation of the promotion of three officials of the Armed Forces of the Philippines (AFP) who are direct parties to the illegal arrest, torture and detention of the 43 health workers. The said officials are Lt. Gen. Jorge Segovia, Brig. Gen. Aurelio B. Baladad and Col. Jaime Abawag.  Col. Abawag has no formal appointment yet but was already in the list of Karapatan and CHD for future reference for the CA.
Karapatan chairperson Marie Hilao-Enriquez expressed "alarm upon learning of the recent appointment of the above-mentioned officials, they being perpetrators of gross human rights violations." Hilao-Enriquez was one of the signatories, along with Dr. Eleanor Jara for the CHD, of the letter submitted to the CA.
Hilao-Enriquez added that, "we understand that any officer who has a pending case against him in court must not be promoted. Thus, we take exception to the promotion and confirmation of Segovia, Baladad as well as Zaragosa, who was promoted in February 2012, as they are among the respondents in cases mentioned above. We therefore ask the Commission if there are measures which it can do to rectify this transgression."
Last year, on April 4, 2011, six of the 43 health workers also filed a civil case for damages under Articles 27, 32 and 33 of the Civil Code at the Quezon City Regional Trial Court.  Segovia, Baladad and Abawag were among the respondents for illegal arrest, torture, arbitrary and illegal detention.  A complaint was also filed before the Commission on Human Rights on February 25, 2010 against Segovia and Baladad.
"Thus, their supposed promotion must not be allowed and the institutions that gave the clearances for such promotion must answer to the people," said Hilao-Enriquez.
Reference: Marie Hilao Enriquez, Chairperson, 09175616800/Cristina Palabay, Spokesperson, 09175003879/Angge Santos, Media Liaison, 09189790580
———————————————————————
PUBLIC INFORMATION DESK
[email protected]
———————————————————————
Alliance for the Advancement of People's Rights
2nd Flr. Erythrina Bldg., #1 Maaralin corner Matatag Sts., Central District
Diliman, Quezon City, PHILIPPINES 1101
Telefax: (+63 2) 4354146
Web: http://www.karapatan.org
KARAPATAN is an alliance of human rights organizations and programs, human rights desks and committees of people's organizations, and individual advocates committed to the defense and promotion of people's rights and civil liberties.  It monitors and documents cases of human rights violations, assists and defends victims and conducts education, training and campaign.