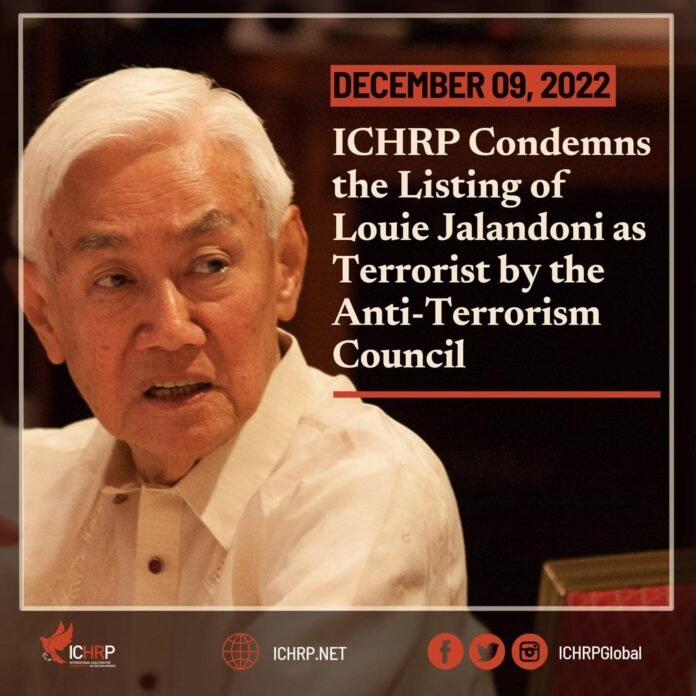 Statement
December 9, 2022
The International Coalition for Human Rights in the Philippines (ICHRP) is one with the international community in condemning the listing of Louie Jalandoni, 87 years old, as "terrorist" by the Philippines' Anti-Terrorism Council (ATC).
ICHRP supports the Committee DEFEND, a group defending the rights of Louie Jalandoni, in submitting the petition addressed to the Philippine President through the Justice Secretary Jesus Crispin C. Remulla, against the designation of Louie Jalandoni as terrorist. This submission by the Filipino people was supported by around 1,500 initial on-line signatories from the international community.
Last May 25, the Anti-Terrorism Council through its Resolution No. 31 unjustly designated Louie Jalandoni along with five other people, as terrorists without due process. This designation was based on trumped-up charges from their so-called confidential "verified information". Jalandoni is the former chairperson of the Negotiating Panel of the National Democratic Front of the Philippines (NDFP), who has resided in the Netherlands since 1976.
"That the Anti-Terrorism Council can designate individuals or groups as terrorists without prior notice and transparency to its selection process clearly shows the Philippine government's disregard for the right to due process of the Filipino people. It is no different from red-tagging, which arbitrarily labels as enemies of the state those who advocate for the legitimate demands of the impoverished Filipino people", said ICHRP Chairperson Peter Murphy. "There is no judicial role in this designation, it is an arbitrary executive decision."
Amidst the country's worsening human rights crisis, ICHRP reiterates its calls on the Philippine Government to heed the recommendations of other member states of the United Nations in the recently concluded 41st Session of the Universal Periodic Review (UPR) last November to respect the rights of the Filipino people. Murphy also called for the international community to continue to monitor the developments of human rights under the administration of President Bongbong Marcos Jr, and to press for the Philippines to return to the jurisdiction of the International Criminal Court.