NEWS RELEASE, July 4, 2013 – Several European human rights advocates, including family members of murdered Dutch missionary Willem Geertman, will join an International Solidarity Mission (ISM) to Central Luzon Philippines, from July 14-17, 2013. The mission will visit and gather information in the following: 1) Aurora province, site of a multi-billion dollar economic project that would be displacing hundreds of poor peasant farmers, and where Geertman spent most of his years in the Philippines; 2) Angeles City, where Geertman was murdered, and, 3) Hacienda Luisita, the controversial sugar plantation evading land reform and owned by the family of Philippine president Noynoy Aquino.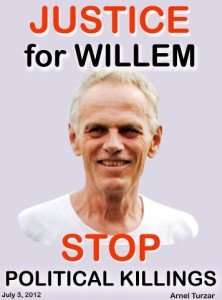 It has been a year since the killing of Geertman. Despite the supposed identification and arrest of the murderers of Geertman, their prosecution has not proceeded and the masterminds in the military remain untouched. Worse, government authorities continue to dismiss the case as robbery with murder,  for what is obviously case of state-perpetrated extrajudicial killing.
Geertman was an activist. He fought against destructive mining, against landgrabbing and other projects that displaced the peasants and indigenous peoples in Aurora. He received threats and was a victim of red-tagging by the military prior to his death. His killers could not have been merely petty criminals.
The ISM preceeds the International Conference on Human Rights and Peace in Manila on July 19-21, that will tackle, among others, the global economic, political and social crises and its impact on human rights in the Philippines, and large-scale mining and corporate incursions into resource-rich areas in the Philippines.
Aurora province is the site of the Aurora Pacific Economic Zone and Freeport or APECO, which local residents fear would cause massive displacement, a fishing ban and encroachment of ancestral lands, among others, and is believed to be one of the reasons behind the extrajudicial killing of Dutch missionary Geertman, who strongly opposed the project and logging and mining activities in the province. Three years into the Aquino presidency, there are so far, 142 cases of unsolved extrajudicial killings, including the killing of Dutch national Geertman.
Aurora province is also facing the so-called Benham Rise, a rich tuna fishing ground, and a potentially  multi-billion dollar oil and natural-gas rich region, that the Philippine government will soon begin exploring by employing the services of foreign energy exploration firms that would likely include Dutch and other European enterprises. ###
Contact Person: Cristina Guevarra, Media Liason (+639491772928)
———————————————————————
PUBLIC INFORMATION DESK
[email protected]
———————————————————————
Alliance for the Advancement of People's Rights
2nd Flr. Erythrina Bldg., #1 Maaralin corner Matatag Sts., Central District
Diliman, Quezon City, PHILIPPINES 1101
Telefax: (+63 2) 4354146
Web: http://www.karapatan.org
KARAPATAN is an alliance of human rights organizations and programs, human rights desks and committees of people's organizations, and individual advocates committed to the defense and promotion of people's rights and civil liberties.  It monitors and documents cases of human rights violations, assists and defends victims and conducts education, training and campaign.