"I know that he is no longer with us," said Shirley Pascual, wife of missing Roberto Pascual who was abducted on April 7, 1988, twenty-three years ago.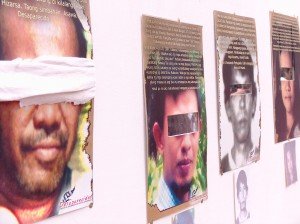 "It took me ten years to finally accept that he is not coming back," Shirley said. Roberto Pascual was an organizer of fishermen in Navotas and Manila when he was forcibly taken by eight armed men from their house two days before his second son's birthday. He was at that time preparing for that occasion. "I tried to stop them by hugging my husband really tight, but I was hit with a rifle butt on the head (by the abductors) and lost consciousness," Shirley recounted.
Mrs. Pascual did the usual round of search for her husband. She inspected the morgues, hospitals, police stations and other possible places she could find him. Yet, Roberto was never found.
Since then, every November 2, Shirley, together with her sons–and eventually her grandsons, would visit Baclaran Redemptorist church with other families of the disappeared to remember their missing loved ones. "Like them, I had hoped that Bert's perpetrators would bring him back. But after accepting that we would no longer see him, I vowed to continue the struggle of families like us, that one day enforced disappearances would come to an end."
This year, Families of the Disappeared for Justice or Desaparecidos, are back in Baclaran Redemptorist Church with an exhibit showing photos of victims of enforced disappearances. But instead of the victim's eyes, a mirror is mounted where viewers find their own eyes replacing that of the victim's. Mary Guy Portajada explained that, "it is not meant to scare the viewers, but to make them realize that anyone, themselves or their loved ones included, may become victims of enforced disappearances."  Adding that this happened to the son of Lolita Robiños, a mere tricycle driver who was forcibly taken  from their home in Angeles, Pampanga 5 years ago, on November 17, 2006.
"Reading on, the viewer will also get to know who the victims are — mothers, fathers, sons, daughters, brothers or sisters, church members, farmers, workers, community organizers or activists," she said. Mary Guy Portajada is the daughter of Armando Portajada who was a union leader of Coca-Cola Bottlers and has been missing since 1987.
"It pains me to know that enforced disappearances still happen and that the number of families of victims who underwent the same pain, are growing in numbers," Shirley said. "More families come here every year as new members of our organization and as new victims. We welcome them with the resolve that even if different regimes have passed, dictators and democratic alike, unless a genuine change of society and state will happen, enforced disappearances will continue. So we too struggle for a society that will genuinely serve the interest of the people, especially the poor," Shirley added.
The family of Alfredo Bucal, one of eight victims of enforced disappearance under the Pres. Noynoy Aquino government, came to unite with the Families of the Disappeared for Justice today. Bucal was abducted last Nov. 10, 2010 in Tuy, Batangas. ###
Reference:
Mary Guy Portajada, Secretary General, +639175415133
———————————————————————
PUBLIC INFORMATION DESK
[email protected]
———————————————————————
Alliance for the Advancement of People's Rights
2nd Flr. Erythrina Bldg., #1 Maaralin corner Matatag Sts., Central District
Diliman, Quezon City, PHILIPPINES 1101
Telefax: (+63 2) 4354146
Web: http://www.karapatan.org
KARAPATAN is an alliance of human rights organizations and programs, human rights desks and committees of people's organizations, and individual advocates committed to the defense and promotion of people's rights and civil liberties.  It monitors and documents cases of human rights violations, assists and defends victims and conducts education, training and campaign.